About Us
Located in Liberty Hill, TX. Fortis Academy provides a classical, college preparatory education to students, grades K-12.  All while satisfying those whose core values demand greater parental involvement in the child-rearing process. By following a University-Model® approach, students attend the academy 2-3 days per week depending on age, while their parents co-teach on off days.  In addition to spending more time with their families, this college-simulated format encourages students to pursue apprenticeships, volunteer opportunities, extra-curricular activities, and other character building endeavors.
As a private school, our emphasis is to instill in our students a love of learning, which promotes life-long growth rather than teaching to a test. Inherent in a University-Model School system, courses are offered by academic level, rather than age, allowing individually-paced progression where students can both accelerate in their strengths, and address their weaknesses. Reflected in our tuition rates are the superior teachers we employ, balanced by a reduced class time, which helps bring private education within the financial reach of a growing number of families.
If your insistence is on the whole heart of a child, we invite you to discover the gift of time that is intently offered at Fortis Academy. Please visit us at one of our upcoming parent information meetings.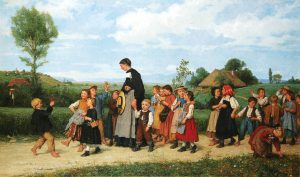 Illustration by Anker Schulspaziergang, 1872 inspired by Canterbury Tales.
 "These commandments that I give you today are to be upon your hearts.Impress them on your children. Talk about them when you sit at home and when you walk along the road,  when you lie down and when you get up."
Deuteronomy 6:6-7
Accredited by